"The Journeys in Between" short story published in Clinch:  A Literary Martial Arts magazine on May 1, 2022.


April 9, 2022 – Celebrate Mesa Living Green Village, Pioneer Park, Mesa, Arizona, booth and story time. 10:00 a.m to 2:00 p.m.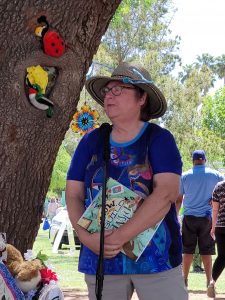 Featured at the Summer 2021 SCBWI PAL showcase (How to Build an Insect starts about 9:50) – video

Invited to present a story time and crafts to "Build Your Own Insect" at the Gilbert Historical Museum at 10:30 a.m. on October 23, 2021.

The Desert Sleuths anthology So West: Love Kills arrived September 10, 2021. You can order the paperback book or ebook. Features Roberta's mystery short story "Fine Lines."


December 2020:  Roberta Gibson's mystery short story "Fine Lines" was accepted for publication in the 2021 Desert Sleuths Anthology So West:   Love Kills. Desert Sleuths is a local branch of Sisters in Crime.

September 30, 2020 "LitLinks: Using the Everglades to develop a love of nature" published at Patricia Newman's Website.

September 19, 2020:  Roberta led a virtual dragonfly and butterfly walk at the Chandler Environmental Education Center.

December 1, 2018:  Roberta's flash creative nonfiction "Sharp Memories" published in Hippocampus Magazine.

November 2017:  Roberta Gibson's creative nonfiction short story "The Punch Line" received a "Commendation" from the Society of Southwest Authors 2017 Writing Contest.