So thrilled that How to Build an Insect is a nominee for the 2023 North Carolina Children's Book Awards June 2022.


Featured author at Archimedes Notebook blog on May 16, 2022. Thanks, Sue!


"The Journeys in Between" short story published in Clinch:  A Literary Martial Arts magazine on May 1, 2022.


April 9, 2022 – Celebrate Mesa Living Green Village, Pioneer Park, Mesa, Arizona, booth and story time. 10:00 a.m to 2:00 p.m.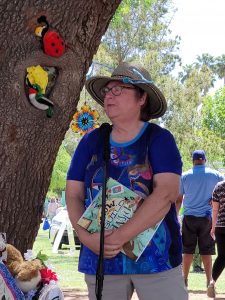 Featured at the Summer 2021 SCBWI PAL showcase (How to Build an Insect starts about 9:50) – video

Invited to present a story time and crafts to "Build Your Own Insect" at the Gilbert Historical Museum at 10:30 a.m. on October 23, 2021.

The Desert Sleuths anthology So West: Love Kills arrived September 10, 2021. You can order the paperback book or ebook. Features Roberta's mystery short story "Fine Lines."


December 2020:  Roberta Gibson's mystery short story "Fine Lines" was accepted for publication in the 2021 Desert Sleuths Anthology So West:   Love Kills. Desert Sleuths is a local branch of Sisters in Crime.

September 30, 2020 "LitLinks: Using the Everglades to develop a love of nature" published at Patricia Newman's Website.

September 19, 2020:  Roberta led a virtual dragonfly and butterfly walk at the Chandler Environmental Education Center.

December 1, 2018:  Roberta's flash creative nonfiction "Sharp Memories" published in Hippocampus Magazine.

November 2017:  Roberta Gibson's creative nonfiction short story "The Punch Line" received a "Commendation" from the Society of Southwest Authors 2017 Writing Contest.